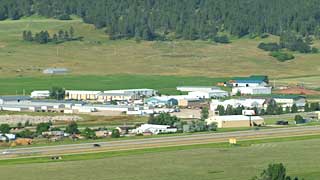 Sturgis Industrial Park    The Sturgis Industrial Park is a South Dakota Certified Site Ready park with all infrastructure in place. SEDC developed the 45-acre Park. Only six acres remain for industrial development. Options include purchase, lease-to-purchase, rent and build-to-suit. Because SEDC is a non-profit economic development corporation, it may be able to obtain loans at favorable terms, which can be passed on to the tenants and buyers.  The construction cost and lease rate varies depending on the building size, type of construction, amount of finished interior space, sidewall height, electrical demands, etc.
The Sturgis Industrial Park businesses are generally metals-related manufacturing for the firearms, motorcycle, agriculture and oil field industries. The Park is home to the largest firearms manufacturing cluster in South Dakota. Beginning in Fall 2015, a high school machinist training program will be located in the Park. 
Other Buildings and Sites.    SEDC maintains an inventory of available buildings and sites for sale or lease in Sturgis and Meade County.
Retail Development – Exits 30/32 –   SEDC partners with the City of Sturgis to create destination retail services. High daily I-90 traffic counts, a healthy year round tourist trade, and the world-renowned annual Sturgis® Motorcycle Rally™ make Sturgis an ideal location for retail services.  A recent Buxton analysis revealed an $81 million leakage, showing Sturgis has room to grow additional retail service offerings.
Contact SEDC at 605-347-4906 or info@sturgisdevelopment.com for more information.
This institution is an equal opportunity provider and employer.